Diving into the world of design and do it yourself projects can be overwhelming. Our mission is to provide you with the resources and hands to help out on your next remodeling project. From Pool Decks to Patio Redesign Williams Remodel has the latest trends and design ideas for you.
What are Popular Patio Design Ideas?
Don't just follow trends, expand on them! Make your outside patio area the talk of your block. Add uniqueness to your deck by using new materials and trendy colors to make a modern look bold, or a beautiful garden spa. There is so much one can do with the outside of their home and it doesn't always have to match the vibe from inside the house. Below are our recommended patio design ideas to add that missing flare to your home.
Add A Concrete Patio
For an inexpensive yet appearance altering effect, try designing where you could have an extension to your current patio. Maybe you want a new design that can be achieved by laying out concrete in separate slabs or as a cool shape. A concrete patio is one of the less expensive and really easy options when redesigning your pato. Williams Remodel can help you set up the new design and do all the complicated pouring for you. If you need more assistance with design and planning out whether you would like to paint the dry concrete, cover it with tile, or lay deck flooring we can help!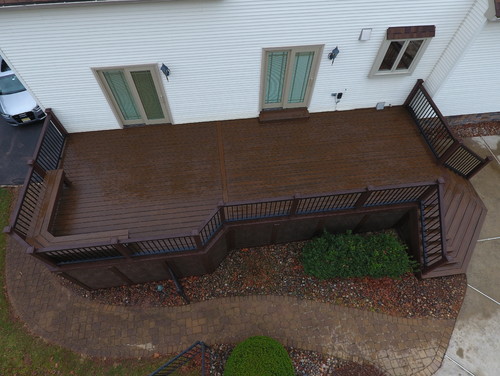 Picking The Right Tiles
Adding tiles to you freshly poured concrete patio is a slightly more expensive option. However, tiles can be great for years and add a lot of color along with design to the outdoor space. The main reason someone might enjoy tiles is to make the concrete patio appear to have a more high end or chique look. Tiles can come in different sizes as well. Some people prefer to use tile similar to the inside of their home to achieve a streamlined appearance. Others may want something unique with a pop of bold color or patterns.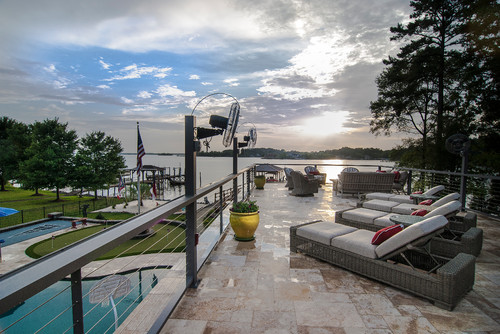 Does Your Design Need Pavers?
After all of the concrete slabs have been poured and are dry the next step is design. Paver may be the right option for you if you want a simple and cost effective patio. Pavers can be bought for all different types of weather and environmental factors. There are paver that absorb less heat for super sunny environments where you may normally burn your feet. There are also pavers that work well in snowy conditions that experience the cooling and thawing temperatures that can cause cracking.
When looking to redesign your outdoor space the factor of your outdoor environment should be a big consideration before you fall in love with materials. Make sure the materials you have in mind work for the climate you live in by checking their product and manufacturer information. This will prevent fast wear and tear, and also the heartbreaking news that you can design what you envisioned.
Covered Patios
A covered patio is not one that is hidden away due to cold weather. It is actually one that provides shade because of intense heat and sunlight. Covered patios can be done in several different ways! Depending on your style they will be the finishing touch to your redesign. If you are doing a full remodel you will for sure want a covered patio design especially in South Florida. Covered patios are nice because you can pick out any type of fabric from silky to elegant. You can drape down the curtains to add privacy or keep them short.
Wall Panels
If you are in need of adding a touch of color to the outside area you just created try wall panels. Wall panels can be found easily online or at Lowes and range for $14-$100 per panel. You can also get panels that are made or real wood or are set up to add plants in. Wall panels outside are an easy way to set up a strong natural plant wall if you are looking to design a garden oasis.
Fire Pits
Popular Patio Design Ideas include trendy built in firepits. A great idea for a larger backyard is to build a wooden deck or patio that has an in ground firepit. Digging out a square or circular space to add seats and a firepit makes your design cozy. This is also great because you don't need extra furniture. Decorate the space with some pillows and blankets to match your home.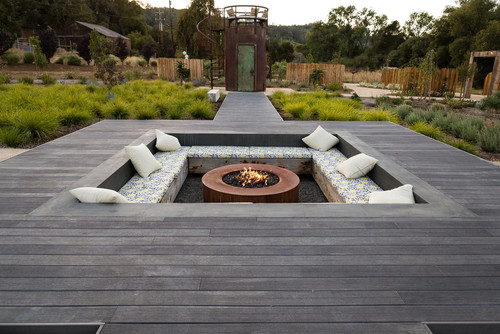 In Need of Pool Deck Resurfacing Ideas?
A huge element in people's homes is whether or not you have a pool and if that pool has a proper deck. If you wanted something less expensive you were probably left with concrete or simple pavers that may now be cracked. A great way to modernize your home is to simply hire someone to redesign your pool deck area. Similar to adding a patio, the pool deck should be a material that is modern and also perfect for the environment. Pool decks should be functional and trendy as well as secure. Altogether, pool decks can be made to function with your patio, or to even merge using the same material or pavers.
Outdoor Showers
Want to cool off? A nice feature to any home is the ability to say you can take an outdoor shower. Outdoor showers are know as a vacation and tropical staple however they can also be designed easily for your home. In addition, outdoor showers can be made out of wood or attached to the side of your house or pergola. They are one of our fastest options since they require running water and proper piping for the environment your home is in.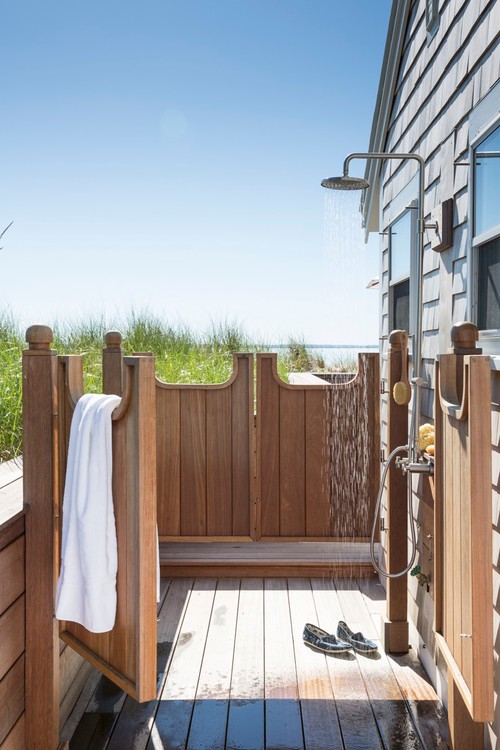 Pool Deck Bar / Kitchenette
Having a new hosting space will give you the opportunity to invite friends over and spend more time outside. Above all, redoing the outside area of your home specifically for hosting and adding a pool bar or outdoor kitchenette. An outdoor pool bar may be as easy as adding concrete and some tiles or you can get fancy with a full outdoor kitchen.
Whether you choose an outdoor bar or kitchenette, the space will delight old and new guests! Your guest will want to enjoy the new outdoor space with you.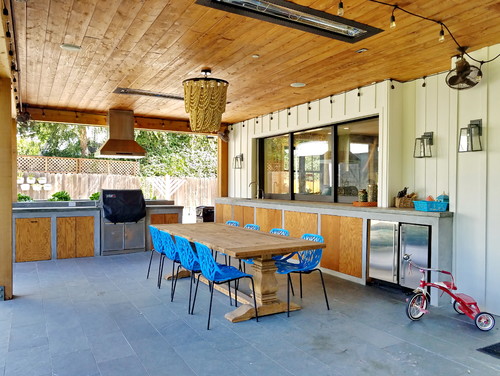 The Right Patio Design Ideas Implemented
If you would like a consultation to see how we can revamp your outdoor space contact Williams Remodel. We specialize in Bathroom Remodeling, Kitchen Remodeling, Flooring, Patio Remodeling, and Dock Refinishing. Bring us your vision and see what we can do to redesign your home.